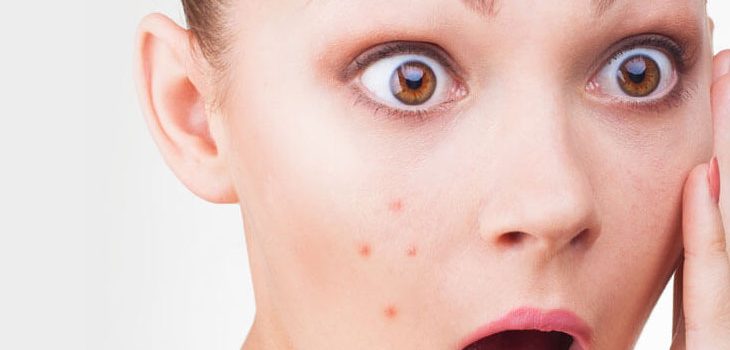 Acne breakouts are commonplace in today's world. With all the stress, pollution, hormonal imbalances, and weird cosmetics that people are using today, acne is a common phenomenon. It affects people across all ages in different parts of India.
And to combat this increased incidence of acne, skin treatment centers and doctors recommend a host of various treatments. These 'treatments' range from 21-day programs to a simple pill that needs to be taken twice a day for 6 days.
While the legitimacy of these methods is sketchy, most of them seem to work out. But are they really long-term solutions? And are there any side effects that we need to worry about when employing these methods of treatment?
Go Natural With Essential Oils
Most people would go by the book or do what the doctor says when it comes to treating acne. But since acne outbreaks seem to be a recurring problem, there's very little that conventional medicine can do about them.
By using natural essential oils instead, you get the benefit of a more organic treatment that's free from side effects. Of course, it all boils down to which oil you use and in what quantity.
Hemp Seed Oil And Its Benefits
Most of you would argue that using oil to combat acne can be counterproductive. And in most cases, you would be right.
The primary cause of acne is oily skin, and acne commonly occurs when our bodies secrete excess sebum. So why would anyone recommend using oil to deal with acne?
Zero Comedogenic Rating
Well, because hemp seed oil is different from all the other regular essential oils out there. For starters, it has a comedogenic rating of zero. A low comedogenic rating means that the oil has lower chances of clogging the pores on your skin. And with a rating of Zero, hemp seed oil for acne will leave your skin blemish-free.
Rich In Linoleic Acid
Another quality of hemp seed oil that makes it perfect for acne is the fact that it is rich in linoleic acid – a nutrient that determines the quality of sebum produced by your skin.
The role of sebum is to lubricate your skin without clogging up the pores. But most people pay very little attention to their diets, and as such, do not consume enough linoleic acid. Without this nutrient, the sebum becomes sticky and hard, clogging the pores on your skin.
By regularly consuming hemp seed oil, you can increase your intake of linoleic acid. This will help to improve the production and quality of your sebum, and soon, you should be secreting natural oils that are less likely to clog your pores.
How to Use Hemp Seed Oil for Acne

Most people simply buy moisturizers containing hemp seed oil and they're widely available in shops selling essential oil products. But if you're finding it difficult to get your hands on a product with hemp seed oil for acne, you can buy the oil itself and use it to treat your acne.
There are 2 main ways of using hemp seed oil to deal with acne.
1) Oil Cleansing Method (OCM)
To use hemp seed oil for acne, you'll need enough of it for a teaspoon of hemp oil every day. All you have to do is apply this small quantity of hemp seed oil to your face. Similar to how you would apply soap on your face.
There's no need to massage your face, but by gently rubbing the oil all over, you'll ensure that it trickles into all the crooks and grooves. After massaging the oil, dip a towel into warm water and allow it to rest on your face after draining out the excess water. After about a minute or two, use a clean towel to wipe off the residue of the oil.
Do this 2-3 times a week and you're sure to see a positive transformation in your skin. Hemp seed oil helps to clean out your pores and soften your skin making it easier for your skin to breathe and exfoliate.
2) Use it as Moisturiser
Another method of using hemp seed oil for acne is to treat it like a moisturizer to heal and rejuvenate your skin. The method of application is very similar to the OCM method.
All you have to do is massage a small quantity of hemp seed oil into the skin on your face. Allow the oil to rest for 20 minutes before wiping it off with a clean, wet cloth. You may leave behind a thin coating of hemp seed oil on your face, but it's great for your skin anyway.
The only reason most people use the OCM method instead of this is because you'll need a larger quantity of hemp seed oil if you want to use it as a moisturizer. So it's best to stick with the OCM method if you want to save money.
Other Benefits Of Hemp Seed Oil
Besides solving your acne issues, hemp seed oil offers a host of other benefits to your skin. Besides supplying you with linoleic acid, hemp seed oil also helps to exfoliate skin. Here are a few other skin issues that can be resolved using hemp seed oil.
Redness
Itchiness
Blotchy Skin
Inflammation
Dry Patches
So if you're dealing with any of these skin problems, get a bottle of hemp seed oil because it's sure to help you improve the quality of your skin.
Eat Right!
Another very important factor to be taken into consideration when dealing with acne – your diet. Most people jump on the bandwagon and search for a miracle cure to treat their acne problems. But the doctor you go to, the oil you buy, and the treatment you employ won't amount to much if you aren't careful about what you eat.
By eating oily, fatty foods, you're likely to contribute to the acne problem instead of curing it. So eat plainer, less-rich food whenever possible to ensure that your skin stays clean, healthy, and free from acne.
So whether you want to use hemp seed oil for acne or some other natural remedy, you are now equipped with the knowledge to start on the road to clear skin today. If you benefited from this information and know someone who might benefit as well, be sure to share this article! Thanks for reading!