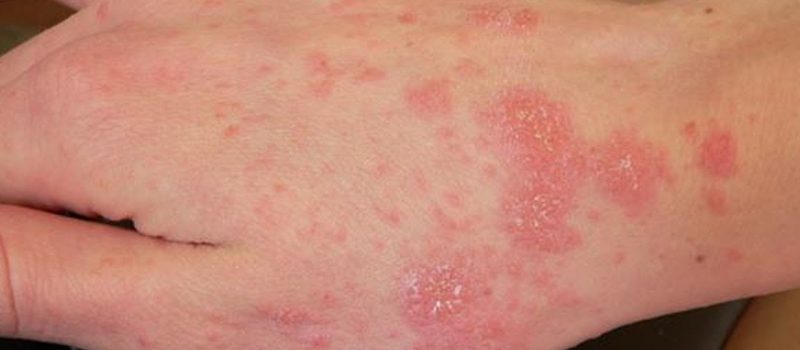 While the seven-year itch may be a psychological phrase for waning marriages, it also is used to describe harsh and contagious skin conditions. One of the more common conditions that people refer to as the seven-year itch is called scabies. With scabies, what seems like an innocent pimple or rash is actually the result of a horrifying infestation that can last, well, seven years. In fact, the infestation can last as long as it goes without treatment.
With an infestation rate of over 200,000 cases per year, it stands to reason that regular treatment needs to be used in order to reduce the symptoms and stop the spread. While other treatments can damage the skin or otherwise hurt cells in your body, using neem oil for scabies can be the perfect way to get rid of the infestation in an all-natural way.
What is Scabies?
Scabies is a skin condition resulting from the infestation of a burrowing mite in your skin called sarcoptes scabiei. Infestations usually happen with up to fifteen initial mites and will stay in your skin until you begin to treat it. These mites are very similar to the mites that cause mange in dogs and cats, though because they are not the same, they are not transferable across species, meaning that you shouldn't have to worry about getting scabies from your dog's mange.
The scabies mites burrow into your skin, creating an allergic reaction at the point of entry and all along the burrow. This can manifest as a sore that seems like an itchy pimple or rash. However, these symptoms can take up to six weeks to appear after infestation, which means that this condition is easily transferred from person to person even before your skin starts to itch.
Although the infestation can happen anywhere on the skin, people usually find that they have scabies in the wrists, in between the fingers, in on the head, or around the waistline. This is because these are the areas that have the greatest chance of being in direct physical contact with an infected person's skin. Whether during intercourse or just holding someone's hand, prolonged contact is a perfect way to transmit the infestation.
On top of this, because the tendency for scabies hosts is to vigorously scratch the affected area, the skin can become inflamed,  dry, cracked, and eventually infected with bacteria. This can add a great deal of pain to an already difficult situation. May carriers are caught between the urge to scratch and the pain caused when they do.
Keep Reading: How to Use Essential Oils for Fleas on Dogs and Cats
How Can You Fight It?
Fortunately, this irritating skin condition is easily treatable through brief lifestyle changes, medications, and essential oils like neem oil for scabies. Because the mites that cause scabies cannot live for more than three days outside human skin, you should wash all of the clothing and bedding you have used in the last three days using hot water to kill the insects. You should also have anyone that you have had prolonged skin-to-skin contact with treated as well.
As for the actual infestation, you can choose to go with a variety of different medications such as antihistamines, topical cremes, and even potentially neurotoxic chemicals such as lindane. When deciding on the best treatment for something as serious as this, only a natural solution will do. That's why using neem oil for scabies remains one of the best ways to cure the infestation without harming the skin.
Note: if you have an advanced form of scabies known as crusted scabies, you may be infested with too many mites to treat naturally. In these cases, you should immediately see a physician rather than attempt a home remedy.
Using Neem Oil for Scabies
In India, the neem tree has been used as a natural insecticide for thousands of years. It is known throughout the country as the "Divine Tree" or "Nature's Drugstore". Whether it is planted in gardens and yards to help keep the mosquitoes at bay or cold pressed for a pure oil that can be used on pets, plants, and people, neem is a versatile way to deal with pests and parasites. However, when using pure neem oil as a topical application, always be sure to dilute it with a carrier oil or with water, as contact with the concentrated oil can be irritating to the skin.
The way to use neem oil for scabies is to create a balm or a paste using neem oil as the main ingredient. Once it is rubbed into the infested area, the neem will proceed to stop the hormonal cycle of the mites. This will hamper their ability to reproduce and will sterilize their eggs as well as make it difficult for them to feed on your blood. While the neem oil will not directly kill the parasites, it stops the infestation and destroys the mites over the course of time.
While using neem oil for scabies is a great way to end the infestation, it also does wonders for soothing the irritated, inflamed, or dry skin that surrounds the affected area. It not only reduces the amount of scratching you will be tempted to do while the mites are being dealt with, but it also has antibacterial properties that can fight any infection caused by your previous scratching.
Therefore, unlike many conventional medications, neem oil takes care of the problem on all fronts. Some of the common medications, like Permethrin, can cause dermatitis or other harsh side effects when applied. This is because there is a greater chance for your body to respond aggressively to foreign chemicals once it has been irritated by scabies, causing your skin to have a burning sensation. On top of that, many variations of the scabies mites have developed a resistance to traditional pesticides and medications. However, no matter how much it is used, insects and parasites have yet to build any resistance to neem oil.
Keep Reading: How to Use Neem Oil to Treat Common Skin Problems
Some Easy Take-Home Recipes
Here are some simple ways to use neem oil for scabies to create a soothing balm or paste help reduce the symptoms, kill the bacterial infection, and stop the reproduction of the mites:
Neem Soap
Add 25-30 drops of neem oil to 1/8 cup of your favorite liquid soap in a bowl. Wash your entire body with this mixture as you take a hot bath, allowing the soapy water to soak into your skin and into the scabies burrows. Do this daily to see positive results. This is especially effective if the infestation is more serious.
The reason that you want to bathe your entire body is to prevent the mites from finding a safe haven from the neem oil and begin burrowing into a new area.
Neem Oil Balm
Add several drops of neem oil to a carrier oil such as jojoba or coconut oil and mix together. Put this concoction onto a clean towel or cloth and rub it into the affected area every day. You should begin to see results in a few days and by the end of the week, you should be mite-free. In more serious cases, it could take up to two weeks to cure.
Reminder: The mites can live in your bed sheets and clothes for three days without their host. If you treat your infestation without thoroughly cleaning your living area, you stand a chance of being re-infested. If this happens, symptoms can appear in mere hours.
Always be sure to wash all clothes and sheets that you have used in the last three days. You can also vacuum the carpet and wash couch cushions to be safe. If you live with anyone else, they should join you in using neem oil for scabies as they may be infested even if the symptoms have not shown yet.
So there you have it. I hope that this article has shown you how to effectively use neem oil for scabies treatment. If you or someone you know has the seven-year itch, be sure to share this information with anyone who could benefit from it. For an all-natural remedy for a highly-contagious problem, neem oil is second to none. Thanks for reading!