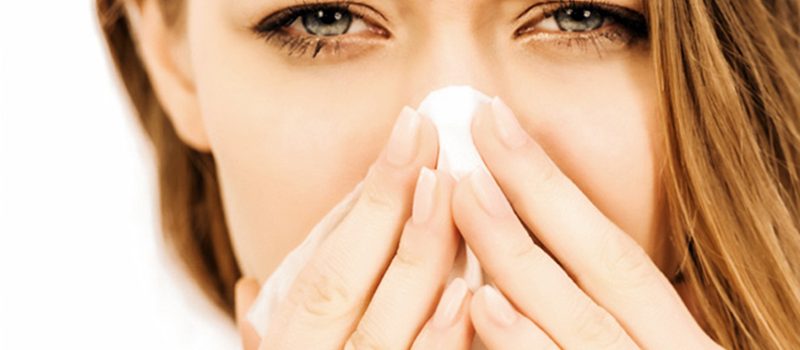 Even the slightest on inflammation on our hand can bother us, then why won't sinus — a problem that causes inflammation of cavities all around the nose, blocking the nasal passages and causing headaches. Don't let sinus problems dominate you, especially when there are natural solutions and remedies available like basil oil for sinus infection.

We would be educating you about one such natural solution for sinus infection – The Basil Essential Oil.
Basil oil for sinus infection, congestion, and drainage has shown proven results on millions of people and continues to do so even after thousands of years. And here's why – basil is a strong expectorant, a strong antioxidant, antimicrobial and an anti-inflammatory agent. All these natural qualities make basil an effective natural remedy for sinus infection and congestion.
Below is a list of ways in which you can use basil oil for sinus infection, congestion and for drainage.
How To Use Basil Oil For Sinus Infection, Congestion, And Drainage
1. Basil oil tea for sinus infection
We all crave for a quick relief when it comes to sinus, don't we? This Ayurvedic concoction is known to provide relief in just a few hours.
How to prepare basil tea for sinusitis: Take about 2 cups of water. To this add, freshly ground ginger paste and 3 drops of basil essential oil. Bring it to boil. Drink this tea while it is still hot. You can add a teaspoon of honey to it in case you find the mixture too bland or sour.  Finally, add freshly squeezed lemon juice to it. For those who suffer from a reoccurring sinusitis, add 2 to 3 clove buds or 2 drops of clove essential oil to your drink. The health benefits of clove oil, when combined with basil oil, are super effective.
Consumption frequency: 3 to 5 times a day at a gap of 2 to 3 hours for a serious sinusitis or once in a day every morning on an empty stomach.
2. Basil essential oil and black pepper concoction for sinus infection
Another effective natural remedy for sinusitis by using basil oil is to mix it with black pepper.
How to prepare basil & pepper herbal blend for sinusitis: Take a glass of hot water and add one-fourth teaspoon of black pepper powder to it. Next, add 2 to 3 drops of basil essential oil. Stir the mixture well. Add a few seeds of carom seeds and freshly squeezed ginger juice to it the blend and bring it boil until it's quantity reduces to half. Finally, add freshly squeezed lemon juice to it. Drink the mixture while it is still warm.
Consumption frequency: 3 to 5 times a day at a gap of 3 hours at least for a serious sinusitis or once in a day every morning on an empty stomach.
Suggested Read: Basil – A Herb We All Need Today For A Healthy Mind, Body & Soul
3. Detox basil oil herbal drink for sinus infection and congestion
This natural remedy for sinusitis using basil oil is probably one of the most amazing techniques to cut the extra flab and to detox your body as well. Take about half a liter of water. To this add a teaspoon of carom seeds, a teaspoon of fenugreek seeds, a teaspoon of fennel seeds, a teaspoon of cumin seeds and a teaspoon of anise seeds. Leave it overnight.
Next day morning, take a cup of water and warm it up. To this add 2 drops of basil oil and 2 drops of clove oil. Mix this with a cup of detox water you prepared last night to it, squeeze half a lemon into it and drink this herbal concoction. You will notice the cleansing of your system speeding up and a significant reduction in the sinus infection.
Note: Do not drink the tea right after having your meal. Give it a gap of at least 2 hours before you drink any of the concoctions of basil oil for sinus infection. Also, do not consume anything cold, or expose yourself to a cooler environment or go for a bath right after drinking the blends.
4. Water and basil oil for sinus infection
Probably the quickest and the easiest way to consume basil oil and yet reap the benefits to the max is this. Drink about 2 drops of the basil essential oil in a glass of warm water every morning on an empty stomach.
5. Basil oil massage for sinusitis, congestion, and headache
Sinus can be extremely annoying when it is accompanied with excessive nasal and chest congestion, and unwanted headaches. To aid relief to such situations, this massage therapy using basil oil is what you need.
<>Basil oil massage blend for sinus infection and nasal congestion: Take 2 tablespoons of almond oil. To this add, 4 drops of basil essential oil, 4 drops of lavender essential oil and 2 drops of eucalyptus essential oil. Apply this blend around your nose, on your head, behind your ears, on your neck, on your chest, and on your back. Cover yourself up properly. Make sure you do not expose yourself to air or a colder environment for at least an hour after massaging this blend onto yourself.
Massage frequency: Start with a massage at bedtime and doze off to sleep. However, if you are suffering from a bad nasal congestion or a headache that is just not going away, repeat the massage every 2 to 3 hours. Make sure to give yourself enough rest every time you rub the blend on yourself.
Read More: 9 Essential Oil Remedies To Scare The Headache Away Naturally!
6. Diffuse basil oil in air for a quick relief from sinus
An effective way to treat sinus infection and to prevent it from reoccurring is to inhale the air the keeps you refreshed. Take a diffuser or buy one here, and add to it about 5 drops of basil, 5 drops of eucalyptus and 10 drops of lavender oil. Let the air of your house or workspace be filled with the aroma of these oils. You can also use peppermint oil instead of eucalyptus oil. Repeat the process whenever you feel congested or experience uneasiness while breathing.
Not only will the diffuser help in distributing basil oil for sinus congestion but will also make your home allergy proof.
Precautions you must take to relieve sinusitis:
Drink plenty of fluids, especially water to prevent congestion of mucus in your nasal pathways.

Drink plenty of hot liquids to ease inflammation and nasal congestion.

Avoid exposing yourself to colder environs or polluted areas. These can make your sinusitis worse.

Increase the intake of a lot of Vitamin C rich products like

amla juice

, lemon, oranges and more. Also, eat

Vitamin A rich foods

and

zinc rich foods

.

In the case of an annoying nasal congestion, eat spicy foods accompanied with our detox basil drink. This will help in releasing the mucus from the nasal pathways and the detox basil drink will keep your digestive system in place.

Use honey as a sweetener in all your herbal drinks.

Avoid smoking or rather quit smoking. This can increase the infection manifolds.

Reduce the intake of dairy products of all kinds while you are suffering from sinusitis.
Preventive measures before resorting to essential oils for sinus treatment:
Always make sure you use good quality essential oils for best results and quick relief.

Before you decide to ingest the oils, read the instructions manual that accompanies the oils carefully.

Ingest only 100% pure essential oils. Otherwise, it can be dangerous as they can cause nausea, vomiting and other health issues.

Keep essential oils away from children. Use them after seeking your medical professional's advice and use them on kids above 6 years old only.

Pregnant women and nursing mothers should avoid using essential oils unless your doctor permits you to use them.

Make sure you do a patch test or try only a few sips of the herbal blends before resorting to the natural remedies to treat sinus. This will help in ensuring that you are not allergic to the basil oil or other ingredients present in the concoctions.
Disclaimer: Always remember these are natural remedies, hence they will always take longer than expected to provide quick relief. They would help in curing the root cause and therefore are more effective. However, you must know that these remedies are not medicines and it is important to consult your doctor if the symptoms still persist.
Where to buy a good quality basil oil to treat your sinus infection?
Buy your basil oil for sinus infection now from amazon.com. Alternatively, you can buy basil oil from your local departmental store. Always make sure that you buy 100% pure, therapeutic grade essential oils only for best results and quick relief.
For best results on the natural remedies we had listed above for sinus infection, use our 100% pure basil essential oil. You can buy it here.
Tip: If you are unable to find the right basil oil or the delivery is taking time, you can use fresh basil leaves as well.
Have you ever used basil oil for sinus infection? Did you experience the change? Share with us in the comments section below, we would love to hear it. Also, do you know of more such natural remedies for sinus that works? Share them as well in the comments section for our readers.
Further Read: Essential Oil Treatments for Sinus Congestion